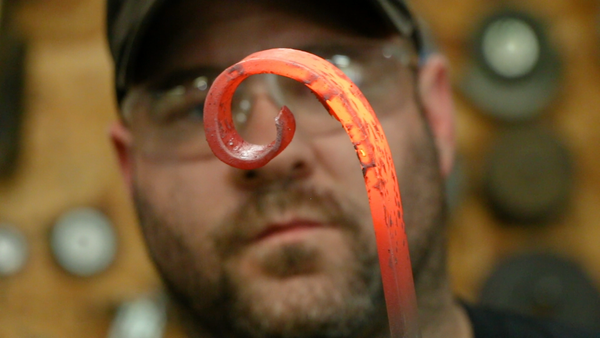 1 day Basic Blacksmithing 2023/ 24
***REGISTRATION DEADLINE FOR ALL CLASSES IS 2 DAYS BEFORE THE CLASS IS TAUGHT @11:59pm***
In this 1 day intensive Blacksmithing course, aspiring smiths will learn the basic essential techniques to be able to produce multiple items. Though we will adhere to the course syllabus there will be time for some additional skills and topics.. This is an intensive and immersive class and we will jump right into it, hands on, learning through creating.

Students will learn and refine their skills with the end goal of creating multiple projects they will take home.
1 Day Lessons:  Fundamental skills - fire starting and management,  drawing, spreading and fullering, cutting, cold punching and chiseling, upsetting, bending, twisting, filing and metal finishing. Heating and cooling to effect metal characteristics and proper shop practice and safety will constantly be reinforced. 
              Projects:  Hand forged hook, meat flipper with bottle opener, skewer/ poker, and if time is available a rivet, and a leaf.
You will laugh, you will learn and you experience what it is like to create something with your own hands from raw materials, with hammer and anvil, fire and steel! 
Materials and tools provided. Though the Village Blacksmith provides basic safety gear, students are encouraged to bring their own eye and ear protection. 
Schedule YOUR OWN Private custom event ! (6 students/ or couples required)
Some ideas for events include:
Bachelor and Bride's maid parties
Birthdays
Reunions
Company and Corporate Team Building Events
Family & Vacation Excursions 
Great Gift Idea for those that have everything
Activities to do before dinner events
Have not seen my friends in a long time and want to make the most out of our visit with a unique experience events
CALL FOR MORE info : 804-824-2631 
 Class schedule : 
Fri, Sat or Sun  9:30am - 3:00pm
Location: 6641 Gloucester St.,Gloucester, VA 23061
Disclaimer : Though we hold safety in high regard, this work can be potentially dangerous. Participants will need to sign a Hold Harmless agreement prior to class.
All students are required to wear leather boots (steel toe preferred) and cotton, wool or other flame retardant clothing. ( no polyester or plastic based clothing)

.
All other safety gear will be provided, students can bring their own eye/hearing protection and gloves, and tools if they wish.

Students under 18 must be accompanied by an adult. 
Happy Smithing!!

 To check out some of our most current work:
 LIKE US ON FACEBOOK!: @HANDFORGEDSTEEL